What is a signature font? In the olden days, we used handwriting to show our style and characteristics. Today, in the modern era, we write on laptops and find ourselves almost non-identical to the other person. While it might be a trivial matter, the same can't be said when you run a business.
You need a distinct style. You need to be recognized. And, after all, you need to show your own business' identity.
Say you are a wedding cake baker. You obviously want to use a gentle and delicate typeface instead of an assertive one. Or say you own a pet shop. You definitely need a typeface with a friendly vibe instead of one with a scary aura.
A Simple Definition of Signature Font
Signature fonts are basically a type of font with their own characteristics. It's, as stated from its name, used to resemble a person's or a business's signature. It usually has its own specific style applied from A to Z. All of them have their own vibes, which include whether it looks formal vs informal, strong vs delicate, or friendly vs firm.
There are a lot of these types of fonts out there. You might be familiar with some of them but don't know the name. They are usually used in Instagram and other social medias' ads.
Some of these fonts are free. However, as a lot of people have already use them, you might want to consider choosing others that are more exclusive.
What's a Signature Font Used For?
Signature fonts are getting more popular day by day. Entrepreneurs use it to write their brand's name, make their emails, and create their ads.
In general, the purpose of using it includes:
To create a distinctive feature from the others
To increase brand awareness
To make the brands or ads more memorable
To represent the business characteristic
To make it classier or not ordinary
The Best Signature Font for You
You can get these kinds of pretty fonts everywhere. However, you sure want to get the one that suits your needs the most. It's also important to choose the exclusive font, even though it's not free.
On Keithzo we actually made our own beautiful handwriting fonts that you can buy. Moreover, all of our fonts come with the following features:
Uppercase and lowercase
Numbers
Punctuation
Stylistic
Ligatures
Accented style
Numerous languages supported
TTF, OTF, and WOFF formats
Angelista

Angelista is definitely an appealing font. It's very beautiful and carefully crafted by our team. Your text would be like art in its own way. It should be your top choice if you want your brand to look more sophisticated with a pretty and graceful look.
Besantty

A pretty and elegant font is a phrase that matches the description of Besantty. This light handwritten font is unique and stunning. However, there's also an underlying vibe of confidence that makes it more interesting. Also, Besantty is PUA encoded. In other words, you can access its glyphs without any difficulty.
Harlysta

You want a cute and natural handwritten font? Harlysta is definitely one of the best options you should think of. This signature font has a relaxed and stylish charm. It's also feminine and beautiful with its cursive style. However, it's still easily read and can be used for a lot of things.
Missera Signature

Missera Signature is a pretty and fancy-looking handwritten font. It's interesting with the cursive style, but as Harlysya, it's still easy to read. Also, it has some kind of cheerful vibe. It can be used in many projects, and you'd be surprised at how much this font will contribute to a good outcome.
Love Cookies
Love Cookies has this unique and innocent look. It uses cursive, but with a rounder style. It's surely a very easy-to-read font. If your business is about making creative crafts, this PUA encoded item should be one of your options.
Pretty Mommy
Are you looking for a signature font with lavish charm? A nod means that you may consider our Pretty Mommy. This beautiful handwritten font can make your text look classier but still warm. You can use it to boost your style on your business cards, brand name, and even email. Moreover, it's PUA encoded just like the others too.
Belofytta
Belofytta is an eloquent font that will help you boost the look of your logo and brand. It's a fine-looking handwritten font with its own distinctive curves. Belofyttan can be used on various occasions, as long as it suits the needs of your project.
Bettalony
Not only is Bettalony PUA-encoded, this font is also pretty and classy. This light handwriting can also make your day better with its relaxed and gentle vibes. You can use it for branding or making IG graphics for your own business.
Audysta
You definitely want Audysta in your library. It's a beautiful and pretty looking font. It has a distinct, bold stroke with sophisticated curves. It can be used in various projects. Some of our clients love to use it when making wedding letters. This signature font will surely make the invitation look more stunning.
Ellysta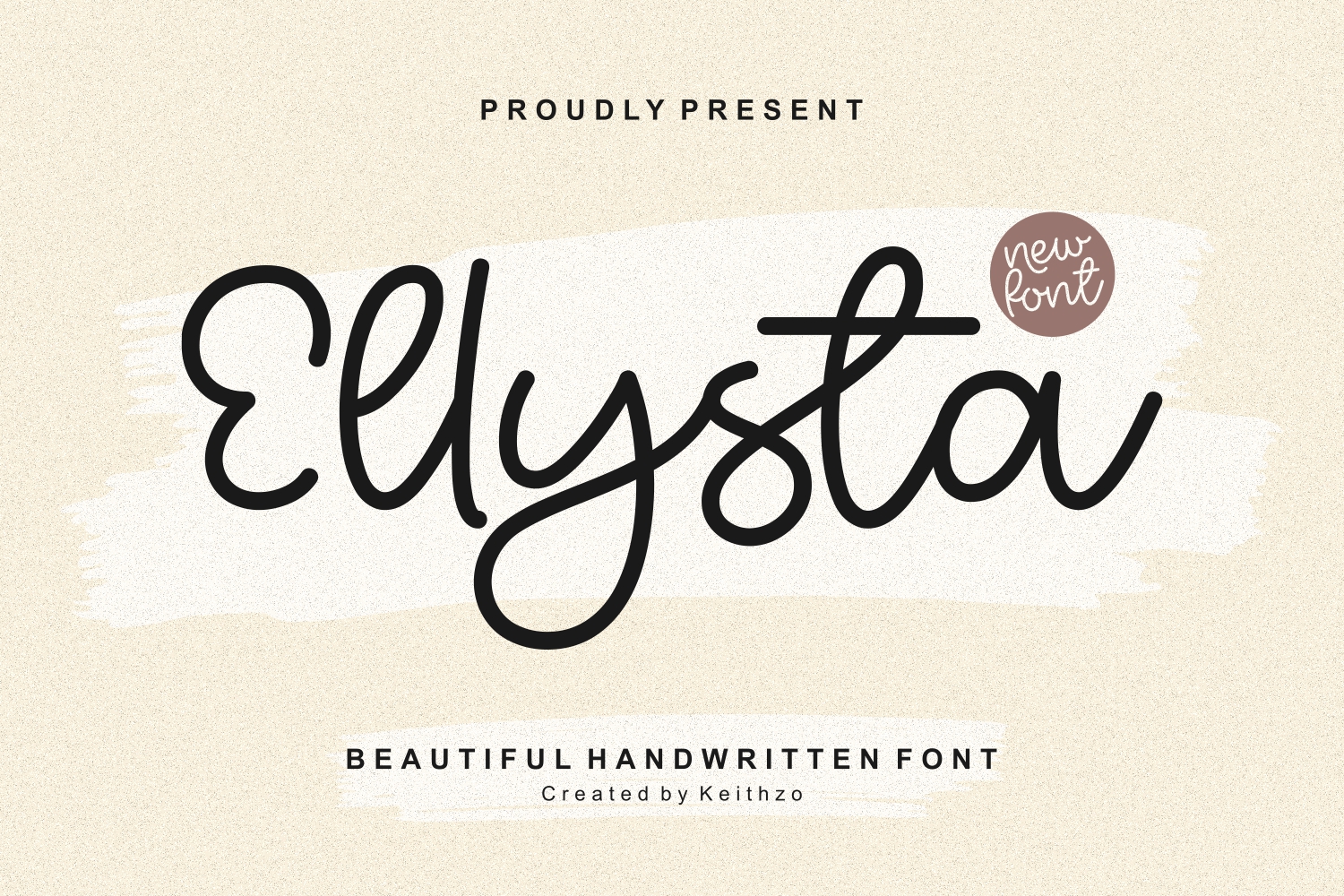 Ellysta can be described in three words: pretty, cute, and jolly. It's a type of font that makes you want to smile, as it has a bright charm. It also looks elegant and exclusive at the same time. These combinations definitely make Ellysta a very unique font.
Astredy
Elevate your business's logo with this super-classy font, Astredy. It's very elegant, confident, and beautiful. There are some "flaws" here and there, but surprisingly, these imperfections create a more natural and graceful look. It will make your design or text more humane and create a better bond with your customers.
How to Choose the Best Signature Font
All of the fonts above are beautiful in their own way. Which one is better? The answer depends on your needs. You might want to buy Love Cookies if you make crafts for a living. But Audysta might be best for you if you are a wedding invitation designer.
Again, it all depends on you. Every handwritten fonts above has their own charm. The most important thing is to choose a signature font that can better represent your brand or business.
Tags: calligraphy, handwritten, handwritting, monoline, script, signature, signature font